Surveys are the best way to collect user feedback on your WordPress website. Building a survey in WordPress is as simple as creating a survey on any other platform.
Using plugins like Quiz and Survey Master you can create exciting surveys to uncover specific answers from your site visitors or any other intended audience. Using this you can make data-driven decisions that will help grow your online business.
Time and again it has been proven that surveys are the best way to reach and engage with your audience and gain meaningful insights. Surveys increase response rates by reaching the users fast.
They are also a great tool to conduct market research with nominal costs and in a short span. You get real-time results for easy data analysis and quick decision making.
Benefits of using WordPress Survey Plugins
1. Cheaper and More Feasible
WordPress Survey Plugin do the work in far less cost or no-cost when compared to the commercial survey tools. Quiz and Survey Master WordPress Plugin is free to download and does not charge a penny for conducting online surveys.
You can create as many questions as you like and as long as you like. Also, there are no restrictions on collecting user data or the number of user responses. Basically, it offers complete freedom and can be used to fulfill your business goals.
2. Convenient and Saves Time
It is easy to create surveys and within no time you will be ready to collect user responses. You just need to download and install the plugin as we usually do and activate it.
Also Read, Best Questionnaire Plugin for WordPress
It then directs you to give the survey a name and choose the type of form you need to build. Later, on the next page, you need to add the Questions and Answers that you want the user to respond to.
Overall, it saves a lot of time as you are not directed to a page outside your website and all this happens within your website.
3. Increased Accessibility
Surveys once created can be accessed by anyone who has the survey link with him. After successfully creating the survey you can send the survey link via. email to the subsequent intended recipients.
The respondents have the liberty to access the survey using various devices including mobiles, tablets, laptops, and desktops. You can even embed the survey on your website so whenever a visitor visits your website he can respond to the survey at the same point.
4. Far Reach and Highly Scalable
Surveys can be reached to an unbelievable number of audiences. In the era of the internet, nothing is difficult, and takes just a few seconds to reach lakhs and lakhs of people.
Millions of people can respond to the survey at the same time without any issues. Just send a link in groups or chats and they will be able to respond to the survey and store their responses.
5. Highly Customizable and Flexible
Survey Plugins are highly customizable. Quiz and Survey alone offers 100+ customization options giving you full control over the survey and its contents.
Also Read, Set Timer on Individual Quiz Pages with QSM
You can customize a survey right from the Type of Question Selection, Adding Scores and Points for correct answers, adding hints to the answers, message to be displayed before the survey, message to be displayed after the survey, showing a progress bar, limiting user attempts and much more.
All these turn out to make your survey very professional and unique!
6. Complete Anonymity
With Online Surveys the user details are kept confidential. Once the responder is taken into trust he will speak his heart out and provide honest opinions thus making it a fair and healthy survey.
This directly impacts response and completion rates that hold the key to survey success.
7. Multipurpose Use
Quiz and Survey Master plugin is a multipurpose plugin that lets you create Quizzes, Surveys, Contact Forms, Questionnaires, Feedback Forms, Polls, Viral Quizzes, Riddle, Personality Test, Online Exams, Trivia Quizzes, Even Planning Quiz and more.
Final Verdict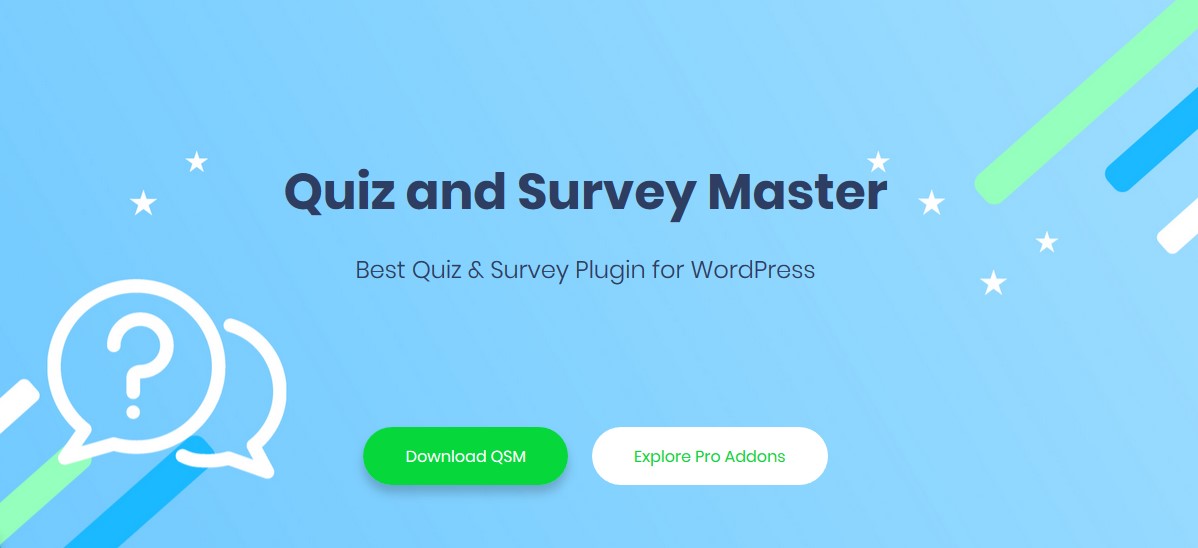 Quiz and Survey Master is Easy, Fast, Simple, and the best Quiz Builder Plugin in WordPress. It has 30000+ Active Installations and comes with 100+ customization options.
Also Read: Create a Survey in WordPress with Quiz and Survey Master
Quiz and Survey Master assures to drive healthy organic traffic to your website to boost user engagement. It lets you customize Text, Add multiple Question Types, Customize Results based on Score, Send Emails after Quiz completion, Categorize Questions, Integrate various Advanced Pro Addons, and more.
Quiz and Survey Master has 30+ Pro Addons that take the Quiz and Survey game to a whole new level.
Other Important Features of QSM Plugin are:
Ability to share user results on Social Platforms
Show All or Limited question on a page
Create Time Based Quizzes, Surveys, and Online Exams
Schedule a Quiz/Survey to be Active
Limit the number of Entries
Enable Comment Box and Hints
Justify the Correct Answer
30+ Pro Addons including Certificates, Leaderboard, Reporting and Analysis, PayPal and Stripe Integration, Email Marketing, etc.